Camelback High School
Class Of 1972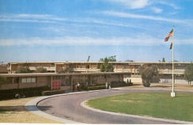 In Memory
Jeff Upton
Jeff K. Upton

1954 - 2018 Obituary Condolences
Jeff K. Upton

Phoenix - Jeff K.Upton, age 64, of Phoenix, AZ passed away peacefully on December 5, 2018, after a brave battle with cancer: melanoma, brain, and liver.

He was born October 27, 1954, in Phoenix, AZ, the son of late Marjorie and Howard Upton. He was preceded in passing by his older brother Greg. He is survived by 2 brothers, Ric and Curt, stepsister Robin, stepmother Doris, and nephews Nick and Salvador.

Jeff was a professional drummer / musician and a talented landscaper and carpenter. Jeff also studied and practiced Tai Chi Chuan for nearly 40 years. Jeff was quick to laugh at jokes or relate funny stories and experiences to make us all laugh. He had a passion for life and enthusiasm that was contagious for those around him.

Family and friends are making contributions to Waves for Water. While he is no longer physically with us, his spirit will live in our hearts forever. A private Celebration of Life in his honor will take place on Saturday, December 29 at 3 p.m. at the Upton residence.
Published in The Arizona Republic on Dec. 23, 2018