Camelback High School
Class Of 1972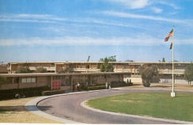 ANNOUNCEMENTS
•

CHS 50th Reunion Rehab Event

Given the fantastic attendance and hectic pace of the CHS Class of '72's 50th Reunion, we would like to announce a Reunion Rehab event to take place at The Hole-In-The-Wall Restaurant located at the Phoenix Hilton Resort at the Peak. If you were unable to attend the Class Reunion, please try to attend this Rehab event and get caught up. This Happy Hour event is scheduled from 4:00 pm to 7:00 pm (or whenever) on Friday, March 3, 2023. There is no sign-up fee for this "No-Host" event and attendees are free to eat and drink at their discretion and their own expense.

At this Rehab Event we will be announcing and discussing, the potential of, and preliminary details for, a possible 50th Reunion - Encore Event, combined with a 70th Birthday Celebration. This special event will entail a 7-Day Mexican Riviera Cruise, with Ports-of-Call including Cabo San Lucas, Mazatlán, and Puerto Vallarta. It is currently planned that we will be sailing round-trip out of Los Angeles, CA (Port of San Pedro) on the Discovery Princess, tentatively scheduled for Saturday February 24, 2024.

Currently fares are being advertised for $547.00 Per Person for an Interior Stateroom and increase from there, depending on the type of stateroom selected. A group booking will be arranged; and all reservations, accommodations, fares, and other booking details will be coordinated with a Princess Cruise Lines, Cruise Coordinator. Additional details and all information developed to date will be available for review at the Reunion Rehab Event.

The Reunion Committee will not be assuming any responsibility for anyone considering participation in this proposed Encore Event. All classmates considering this cruise will be individually responsible for making all necessary arrangements to join in what promises to be an extraordinary fun filled week of adventure and relaxation.

Hope to see as many of you as possible on March 3rd.

•

CHS Class of 1972, 50th Reunion Recap

The Camelback HS Class of 1972, 50 Year Reunion was a smash hit. It started out on Friday mid-day with attending classmates checking-in and receiving their credentials in the event Hospitality Suite and then visiting with fellow classmates throughout the afternoon.

Then on Friday evening the various elementary schools gathered poolside for more socializing, libations, and impromptu entertainment. The elementary schools represented included were Madison #1, Madison #2, Loma Linda, Squaw Peak, and St. Thomas the Apostle. Group pictures were taken to commemorate the gathering of these groups as well. Steve Tussey had his electric piano and entertained us by playing several songs for us in this casual pool-side setting. (Video to be uploaded to the class website.) Once we ended the poolside gatherings, we moved to our Hosted Hospitality Suite and continued to enjoy getting reacquainted. Also, during this period, we were entertained by Ken Murphy and Steve Tussey who played various instruments and song many of our favorite songs. What a treat to see Ken play the banjo and acoustic guitar. (Video to be uploaded to the class website.)

For Saturday, the morning and afternoon were open for classmates to enjoy some of the many amenities available at of this wonderful resort. Saturday evening began with a No Host Cocktail reception with passed Hors D'oeuvres in a beautiful outdoor garden patio. Following the reception classmates were treated to very pleasant, seated dinner comprised of their choice of Steak, Chicken or Vegetarian entrees. The dinner included an announcement and awards program recognizing many of our classmates and their achievements. Throughout the dinner, and after, State 48 Band (consisting of some fellow Spartans) played the music we are all familiar with from that era as classmates danced and enjoyed the music. After the main event we returned to the Hosted Hospitality Suite for more one-on-one connections with our classmates which turned out great as we also had the time to review our classmates that have deceased and remember how special they all were.

Sunday began with friends and classmates returning to the Hospitality Suite to say goodbye, and to appreciate and reflect on a very enjoyable and successful reunion, and close-out a great weekend.

Following the reunion Barbara (Emrick) Marx coordinated a picnic on Sunday at Granada Park in the old neighborhood. Several classmates helped her do this (although not on the official reunion agenda) and it was an opportunity for many classmates to extend their weekend; and was available to those classmates who were unable to attend the 50th Reunion event, giving them time to connect with old friends.