Camelback High School
Class Of 1972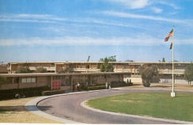 ANNOUNCEMENTS
•

THREE MONTHS AND COUNTING

We're now only 3 months away from the 50th Reunion Celebration of the Camelback High School Class of 1972, and excitement is continuing to build as more and more classmates sign up to attend! The reunion will take place on Friday, November 4 and Saturday, November 5. 2022 at the We-Ko-Pa Casino Resort. Friday, November 4 will feature "get-togethers" of the various elementary schools we attended. The elementary school get-together invitations will be announced separately on the homepage of our class website.

Following the grade school get-togethers, classmates and their guests who are registered to attend the reunion are invited to The Pharoah's Hospitality Suite to enjoy snacks and refreshments, and to continue visiting and catching up. Additional details concerning our reunion's "main event" on Saturday, November 5 will be posted on the class website in the weeks to come.

Important: Please note that in order to attend any official reunion events (including the Pharoah's Suite) you must be registered and credentialed for the reunion! As explained in a previous announcement, your registration fee not only pays for your sit-down dinner on Saturday evening but helps us to cover all the other many expenses involved with our reunion.

Speaking of reunion expenses, we continue to generate them despite our best efforts to economize and keep costs down. We ask that you please consider making a contribution over and above the price of attending the reunion (or, if you've already made a contribution, adding to it) to help cover expenses. Thank you!

The We-Ko-Pa Casino Resort continues to tell us that all their hotel rooms are booked up for our reunion weekend. That said, for those of you who really want to stay at We-Ko-Pa the reunion committee recommends periodically contacting the resort directly to see if there have been any cancellations. We were informed last week a classmate and spouse recently did so and were able to make a reservation for the reunion weekend. For those of you who prefer to stay at a different property, please see the previous announcement listing some other local options.

Finally, a high school reunion is truly an occasion where "the more the merrier!" For this reason, if there is a classmate that you would like to see at the Reunion, and who is not currently registered, it is time to start "twisting arms" and encourage them to register. We've noticed that some classmates will sit on the fence about attending until someone takes the time to invite them to attend. Please be that "someone" who takes the time! Of the 297 "Found Classmates" we currently have 89 Classmates registered to attend and are hopeful to get 125 to 150 (or roughly 1/2) to attend. If you want to know whether a specific classmate is registered for the reunion, go to the class website under "Classmate Profiles" and select the various "Attending ……" levels and a list of those registered for that event will be provided.

We look forward to seeing "you" at the Reunion in November!

•

If you graduated from Loma Linda and attending the 50th Reunion, we should plan on meeting up separately either Friday or Saturday, perhaps by the pool area at the Resort. So let either me, Debbie Ortiz (Sherlock) or Susan Tree (Casillas) know on our profile page...see you there!

•

FOUR MONTHS AND COUNTING (Delayed)

This is a last-minute reminder that the extended "Early Bird" pricing will expire on July 15th. We hope all who want to take advantage of this discount have done, or will do, so by then.

The Hotel is sold out for the Reunion Weekend, but if you are still looking for accommodations at the We-Ko-Pa Resort, we encourage you to check back with them regularly for any possible cancelations or release of available rooms. We are waiting to hear back from the Hotel as to the possibility of a "Wait List" for rooms.

We would also ask that if any Classmate who has a room reservation at the We-Ko-Pa Resort and finds themselves unable to attend the Reunion, that they do not cancel their Room Reservation, as we have Classmates who would like to assume that Reservation. If you find yourself in that situation, please lets us know and we will work to get the Reservation reassigned.

At this time, we currently have 81 Classmates and 35 Guests registered for the CHS 50 Year Reunion. We are hoping to have over 100 Classmates in attendance for this Golden Anniversary Event. Please check the class website to see who will be attending the Reunion. You can access the list of attendees under Classmate Profiles on the home page of the website and click on the various Attending categories.

•

IMPORTANT ANNOUNCEMENT

EARLY BIRD PRICING DEADLINE EXTENDED TO JULY 15!

There has been a very enthusiastic response from our classmates about attending the Class of 1972's 50-year Reunion to be held at the beautiful We-Ko-Pa Resort Casino, Friday, November 4 and Saturday, November 5, 2022. 108 people have already registered for the reunion festivities even though the reunion is still more than four months away, and more are joining all the time. Considering this great response, and after receiving some requests from classmates who only heard very recently about the upcoming reunion, the Early Bird deadline to register for the reunion at the reduced price of $130 has been extended. The new Early Bird deadline to sign up for the reunion and purchase your is now Friday, July 15. Don't miss this last chance to purchase your reunion tickets at the lowest possible price!

In addition, hotel rooms at the We-Ko-Pa Resort may be completely booked, so we have listed below some other properties in the area that may be of interest to you. Please remember to use your AAA, AARP or other memberships, to gain any additional discounts for lodging.

We suggest you call the Hotels directly for reservations.

Fountain Park Hotel, BW (Best Western) Signature Collection

12800 N. Saguaro Blvd

Fountain Hills, AZ 85268

480-837-6565

Comfort Inn-Fountain Hills

17105 E. Shea Blvd.

Fountain Hills, AZ 85268

480-837-5343

Airbnb.com and VRBO.com are available online with availability in the area, too.

•

PROCRASTINATION ALERT

June 15, 2022, is the deadline for "Early Bird" Registration @ the $130.00 Rate.

Rooms are also quickly becoming unavailable.

Do not delay further especially for Room Reservations.

•

5 Months and Counting

We would like to remind those Classmates who have not Registered to attend the 50 Year Reunion of the June 15th Deadline for the Early Bird pricing. Also, Hotel Rooms are filling up fast and if you need a reservation please make it soon, as availability and pricing discounts will not last much longer.

For those who want to know which Classmates have registered to attend the Reunion to date, you can go onto the Class Website and under "Classmate Profiles" you can click on the "Attending No-Host Cocktail Reception and Dinner (Early Bird) (11/05/22)" event to show a list of Classmates who have registered for that event.

An elegant 3-Course Dinner Menu has been developed with your choice of entrée including Steak, Chicken and Vegetarian selections. The Reunion Dinner Menu with all the options and details is provided below. The beautiful Courtyard venue will provide a private and relaxing setting for the Reunion Cocktail Reception and Dinner (photo below).

Camelback High School

Class of 1972 – 50th Reunion

Dinner Selection (Choice of Entree)

Salad-Baby Greens

Apple, Pear, Mango, Manchego Cheese served with Champagne Vinaigrette

New York Strip Steak

Sweet Corn Soft Polenta, Wilted Arugula & Spinach

Stuffed Chicken Breast

Spinach, Peppers, Oaxaca Cheese, Avocado, Tomatillo Rice, Chipotle Sauce

Vegetarian

Ancient Grain Vegetable Cake (Mushroom Ragout, Grilled Vegetable, Roasted Tomato Sauce

Dessert

Chef's Choice of Dessert

* ALL ENTREES INCLUDE, Baked Breads and Butter, Freshly Brewed Regular & Decaffeinated Coffee, Hot Tea Selection

•

6 MONTHS AND COUNTING

Registration is now open for the CHS Class of 1972, 50th Reunion. Beginning May 1, 2022, you can go to www.camelback72.org to register, take advantage of the "early bird" pricing and get additional details surrounding this event. The early bird pricing will be available through June 15th. In addition to Registering for this event, you will also have an opportunity make a Donation, and help support this 50th Class Reunion event.

As a reminder you must make Hotel Reservations separately. Use the link (https://reservations.travelclick.com/96432?groupID=3337481) to make your room reservation or call the Hotel at 480.789.5300 and use the Code 3337481 to secure your discounted group rate.

•

IMPORTANT NEW REUNION INFORMATION

This announcement is intended to provide important Reunion event details, and to share with the Class the cost to attend the 50th Class Reunion. Our 50th Class Reunion Main Event will consist of a No-host Cocktail Reception followed by a 3-Course Dinner. This event will be held at the We-Ko-Pa Resort Casino on Saturday, November 5, 2022. The dinner will feature a fresh salad, plated entree with sides, and a dessert. There will be three entree selections: 1. New York Strip Steak, 2. Stuffed Chicken Breast and, 3. Vegetarian Plate.

The cost for this Reception and Dinner is Per Person, and includes all mea, service, and facility costs.

The per person cost will be $130.00 if paid no later than 6/15/2022.

The per person cost will be $155.00 if paid after 6/15/2022 and no later than 9/15/2022.

The per person cost will be $180.00 if paid after 9/15/2022 and no later than 10/15/2022.

The online Registration and Ticket Purchase for this event began on 5/1/2022. This means you are now able to register, make your meal selection(s), and pay for your tickets on the class website at www.camelback72.org, under "50 Year Class Reunion Registration". There you will also find additional important event details.

Upon arrival at the hotel (or prior to the main event), you will be able to register and receive your credentials as well as detailed information about all Reunion activities and events. Please join your classmates in the Hospitality Suite (hosted by your Pharaohs) to register, and to meet greet and socialize with all your old friends. More detailed event information will be provided in future Announcements, but in the meantime, we encourage you to log into the resort's website at www.wekopacasinoresort.com to become familiar with the resort and all its amenities.

We are looking forward to seeing all of you in November!

•

SAVE THE DATE ANNOUNCEMENT

Fellow Classmates:

The Camelback High School Class of 1972 Reunion Committee is excited to announce that we are in the final stages of negotiating a location and date for our 50th Class Reunion celebration. This event will be held at the We-Ko-Pa Resort and Casino on Friday and Saturday, November 4th and 5th 2022.

More information and details will be provided very soon, as they become available.

We hope you can join us on what promises to be, "An event to remember!"

Your Reunion Committee

P.S. A two-question survey will be forthcoming to your email where you will be asked about your plans for attending this 50th Class Reunion event. Please respond to this survey at your earliest opportunity.