Camelback High School
Class Of 1972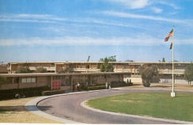 In Memory
William Roy Milam
WILLIAM ROY MILAM OBITUARY
William Roy Milam passed away on December 7, 2022 at his home in Show Low, Arizona. He was born to William and Dewey Milam in Phoenix in 1954.

Roy attended Loma Linda Elementary School and Camelback High School. He excelled in sports, particularly football. Well into middle age, he could perform difficult dives with the grace of an Olympic diver half his size. Roy lived in Georgia, North Carolina, Ohio, New Mexico, and Colorado before returning to Arizona. Roy was gregarious, he enjoyed a good joke; his eyes were often twinkling. Roy had a big presence that was far more than his physical size; he was spirited, boisterous, tenacious. Roy was rough around the edges, but knew how to be kind.

Roy will be greatly missed by his family: wife Annetta Milam; son Derek (Ashley); grandson Dominic; stepchildren Jenne, Kitty & Evan; grandchildren Casey, Tony Allen & Alexander; sister Carolyn (Kent); brother Tim (Janis), nephews, nieces, and cousins. Roy is preceded in death by his daughter Dena, his parents and sister Susie.
Published by Legacy Remembers from Dec. 14 to Dec. 17, 2022.
https://www.legacy.com/us/obituaries/legacyremembers/william-roy-milam-obituary?id=38391269&utm_source=facebook&utm_medium=social&utm_campaign=obitsha