Camelback High School
Class Of 1972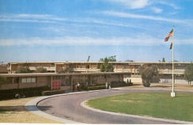 In Memory
Barbara Skomer
Barbara Sue RichmanWith profound sadness, we announce the passing of Barbara Sue Richman on April 27 at the age of 66 from early-onset Alzheimer's disease.
Born in 1954 in Phoenix to loving parents Ruth and Leonard Skomer, Barbara grew up with three close-knit siblings. Barbara earned top marks at Camelback High School and was, by all accounts, the prettiest girl there.
At Pomona College and later Berkeley University, she excelled at piano and dance, performing with a Martha Graham dance troupe. She earned her degree in Ancient Greek Language & Mythology, a subject which remained a lifelong passion.
Barbara moved to LA with her sister Sharon and met the love of her life, James Richman. They married in 1985 and moved to the Pacific Palisades, where she made a beautiful home for them.
Over her 25 years in the Palisades, Barbara worked for NBC and KNX News Radio, worked as a personal trainer at the Riviera, and helped manage her parent's clothing store. All the while she remained close to Sharon and her nephews, and raised two adoring children.
Barbara's greatest legacy is the loving family she built. As a mother she was warm, vivacious, silly and exceptionally bright. She was a fierce advocate for her children, imbuing them with her strength and resilience, love of learning, and kindness. Her vivid imagination and sense of humor made everything an adventure, and their days were filled with laughter. For Jim, she was a steadfast confidant, advisor and faithfully loving wife for the 35 years they had together.
Barbara later volunteered as a docent at the Getty Villa, where she transformed tours into delightful performances. In her free time, she played tennis at the Riviera with friends, hiked her beloved Australian Shepherds, made high-octane Italian stovetop espresso, played Bach on piano, and read (with a particular fondness for Tolkien).
In 2013, Barbara and Jim moved to Ojai, where Barbara's charm immediately endeared them to their new community. Even at the end, Barbara never stopped making those around her smile.
Barbara was filled with so much energy and life that she remained vibrant even after the transformation of disease, and remains so now in the minds of everyone who knew her.
Barbara leaves behind her husband Jim; her children, Elliot and Caroline; her father, Leonard Skomer; her sister, Sharon Pregerson; her brother, Michael Skomer; and her cherished siblings in-law, cousins, nephews, nieces and son-in-law.