Camelback High School
Class Of 1972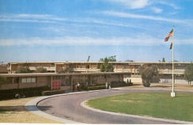 In Memory
Michael Wagner
Dr. Michael Andrew Wagner, beloved father, brother, grandfather, and husband, unexpectedly passed away on Sunday, August 25th, 2019, at the age of 65.

Michael was born on August 19th, 1954 in Phoenix, AZ to Arthur and Helen Wagner, their tenth and youngest child. He graduated cum laude from Arizona State University in 1976, and received his medical degree from the University of Arizona in Tucson in 1981. Michael met his first wife, Arlene "Cooky" Handler, as an intern at Maricopa County Hospital. He moved to California for his residency at UC Irvine in 1982 and married Cooky on June 10th, 1984. They raised two sons, Alex and Andrew (AJ), and a daughter, Carly in Long Beach, CA. He and his family moved again to Roscoe, IL when Cooky became ill with cancer. After Cooky's death in 2012, Michael remarried to Felicia Cannegieter on July 8th, 2016, and adopted Felicia's two sons, Austin and Nathan. He practiced ophthalmology for 26 years, and after retiring moved back to Phoenix, AZ in 2018.

Michael was a dedicated servant to his family and the community. A devout Catholic, he was a man of faith, integrity, compassion, and resolve. He was loved for his great and humble intelligence, goofy sense of humor, and infectious personality. He was an avid golfer, and would often share this hobby with his family and friends. Despite his proficiency, his focus was always on everyone having a good time. He also enjoyed running, racquetball, hiking, boating, and philosophy. Michael's greatest joy came from returning to Phoenix to live out his retirement surrounded by his family. He is deeply missed by those closest to him.