Camelback High School
Class Of 1972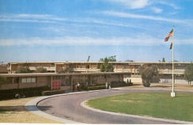 In Memory
Kim Pickard (Barry) VIEW PROFILE
KIM PICKARD BARRY
Jan. 5, 1955-Feb. 10, 2015
Kim Pickard was born on January 5, 1955 in Mexico City, Mexico, of American parents Gary and Lee Pickard. She moved with her family to Phoenix, AZ when she was seven. Kim joined the Unification Church in September, 1975, in Phoenix while a student at Arizona State University.
In 1979 Kim did pioneering witnessing activity in Huntington, WV, and then continued her undergraduate studies at the University of Hawaii in Honolulu, where she graduated in late 1982. In July of 1982, she married Mark Barry.
Upon graduation, Kim joined the staff of CAUSA International in New York and traveled to several countries in Latin America. During that period, her first daughter, Jennifer, was born in 1984.
The Barry family moved to Phoenix in 1986 and that year Kim's second daughter, Lani, was born. The first son, Joshua, was born in 1988, followed by the birth of sons Benjamin, in 1991 and David, in 1993.
In Charlottesville, Virginia, Kim became beloved to many members of the local community, in particular African-American ministers and their congregations whom she diligently served and witnessed to. Despite being a mother of five children, she organized several workshops for the young people in these congregations of local churches.
Kim and her family returned to the Phoenix area in 1997 and after three years there, she accepted a staff position in Bridgeport, CT at the New Eden Academy, now Bridgeport International Academy. The family relocated to the Red Hook, NY area in fall 2001 where they have since remained. For several years, Kim served as faculty secretary at Unification Theological Seminary. Most recently, she was a nutrition educator for the Cornell Cooperative Extension of Ulster County (NY).
In fall 2006, Kim was diagnosed with breast cancer and went through a successful program of treatment through spring of 2007. After several years of good health, she was diagnosed with metastatic breast cancer in the fall of 2012, which affected her bones and, ultimately, her liver.
Kim passed away on February 10, 2015, at home surrounded by family.
As a loving mother and wife, Kim was deeply dedicated to her faith community and often organized many outreach and interfaith events. Even towards the end of her battle with cancer, she was deeply committed to serving her community by organizing donations to food banks and community gardens in the Hudson Valley and to orphanages in Africa.
Kim is survived by her husband Mark, daughters Jennifer and Lani, sons Joshua, Benjamin, and David, and by her brother Michael.
Click here to see Kim's last Profile entry.